Ready to Begin Your Journey ?
Ambet – Mahpral
Ambet – Mahpral Ferry not only saves Fuel but also saves Time & money as it gives you a Shorter path to travel TOTALLY FREE !!
Jaigad – Tawsal
This Ferry service was started for the easy & better transportation from Guhagar & Ratnagiri thus making Guhagar tehesil easily accessible.
Dighi – Agardande
This Ferry service is oriented towards Tourism & Fishing . Many tourists started preferring their weekends at Alibaug & nearby lovely places.
Enjoy Our Cruise Service
Now a days tourism had flourished well in 'Konkan Region'. Tourist are always seeking for something new and exciting. Keeping in view this need, we have started CRUISE service like Goa- cruise at various seasons.
Give it a Go !
A programme of about an hour, consists various entertaining programs and cultural activities like Kokani Cultural Events, Goan Fusion, DJ night, Deck Dance for couples, Special games for kids, various Game Shows along with fresh Kokani delicious food on cruise.
Being a seasonal service, arrangements are made only during some months & advance booking is necessary for hassle free experience.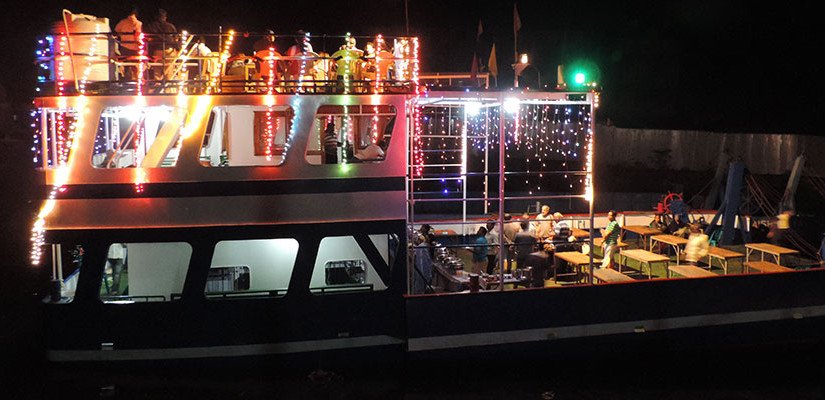 Exclusive Inland Service
This is a special transportation service for various Materials & Machines at desirable locations.
Easy Transportation
As there are many ports in Kokan region, transportation of various products from one location to another through sea has become a necessity. Ferry- Service comes to help for transporting heavy machines like cranes, fork lanes (JCB), boaring machines, large tankers or any other heavy material which is tedious to transport by road.
As this is a special service, charges depend upon weight, distance, waiting time, fuel & labour etc.
This service is started for the economic transportation of heavy materials conveniently through water with proper safety.